Kill Your Darlings
John Krokidas // 2013 // 104 mins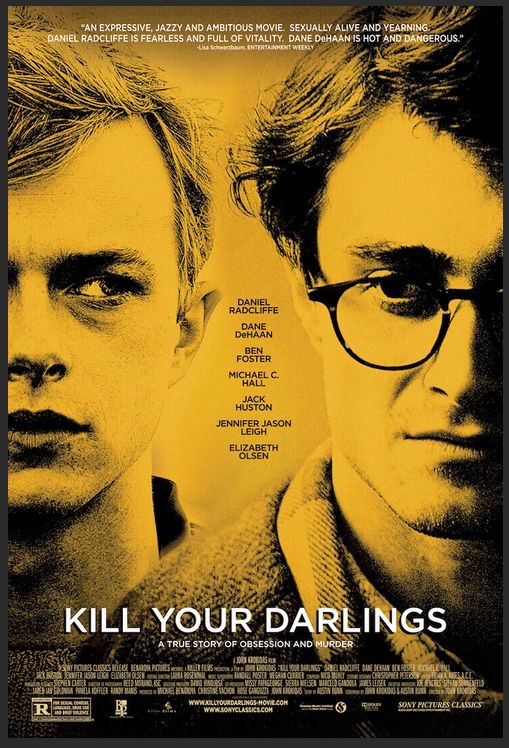 *Spoiler Alert: This review contains information and discussion of plot points that could spoil the story if you're not familiar with it*
On the night of August 13th 1944, Lucien Carr, a Columbia student and friend to future literature giants such as Jack Kerouac, Allen Ginsberg and William S. Burroughs, was taken into police custody after confessing to the murder of David Kammerer; an older English professor whom he had known since the age of 14. This night and the events that led up to it is recounted from the perspective of a young Allen Ginsberg, portrayed by
Daniel Radcliffe
, in
Kill Your Darlings
, a film that explores the beginnings of the beat-generation literature movement and the complex, close-knit relationships of the young men who started it.
As the next stop on Radcliffe's journey to shed his Harry Potter image Kill Your Darlings is certainly a bold venture, seeing the young star tasked with transforming into a much-love American poet, coming to terms with his sexuality and getting wrapped up in a murder trial. As Ginsberg, Radcliffe delivers a strong, engaging performance and provides a solid protagonist for us to relate to a follow into this world of drugs and literature. Occasionally he struggles to act through his American accent, but there is a clear display of his abilities here, making this one of his strongest performances. Fantastic support comes from
Michael C. Hall
,
Ben Foster
and
Jennifer Jason Leigh
who are all on top form as strong secondary characters that flesh out this world.
Jack Huston
as Jack Kerouac is given less room to impress, which is a shame given Kerouac's major involvement in the actual events, while
Elizabeth Olsen
is severely underused as his girlfriend Edie. Apparently a major story arc concerning Olsen's character was cut from the finished film, and that loss is certainly felt as the finished representation of Edie fails to match accounts of the real woman and only hints at what the actress is capable of.
This film belongs to
Dane DeHaan
though. His Lucien is entrancing, oozing a charisma and magnetism that shows exactly why Kammerer and Ginsberg both became so infatuated with him without ever having to explain it. DeHaan's presence is a strong one and though he shares a strong chemistry with all of his co-stars he steals every scene he is in. Lucien is a manipulator who uses his power over others for his own benefit, something which makes many of his actions ambiguous in nature and, if you are taken in by his charm like Allen, frustrating to watch. The prospective romance that is explored between Allen and Lucien is perfectly written and performed, capturing the excitement of an initial attraction and the cruel realisation of a potentially one-sided affection.
John Krokidas
' direction stumbles slightly as the plot weaves between being a coming-of-age romance, a biopic and a crime drama, with the strongest aspect by far being the romance where the director hits his stride. Once the murder takes place everything feels a little rushed in order to reach a conclusion and Ginsberg's inclusion in the events that follow seems like a forced attempt to keep him involved when really, focusing on the actions of Carr, Kerouac and Burroughs could have made for much stronger storytelling. There are a handful of stylised scenes scattered throughout the film which all work extremely well, such as a hallucinatory sequence set in bar full of static onlookers and an inventive use of a rewind technique as events are recalled. The soundtrack is an eclectic mixture of period-specific songs, contemporary music and a stunning original score which come together brilliantly to capture the time, the emotions and the drama of this story.
Kill Your Darlings is by no means a historically accurate film, a simple google of the story it depicts show that events have been rearranged or changed and the writers have drawn their own conclusions as to what actually happened. Instead this is a film that strives to capture an era in history and literature that is highly regarded by so many, and provide an insight into the early lives and relationships of well-loved American writers. With his feature debut John Krokidas has set a high standard for himself; the film and it's story is constantly engaging but it is Dane DeHaan's immense talent that enhances the film so much and makes Lucien Carr one of the more interesting characters committed to film in 2013.