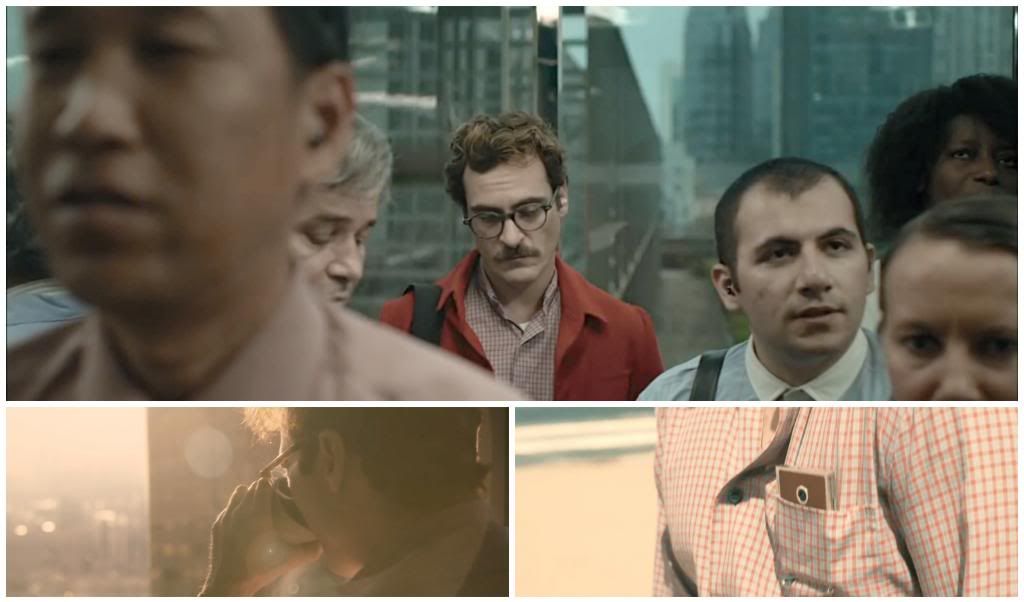 Her
Spike Jonze // 2013 // 126 mins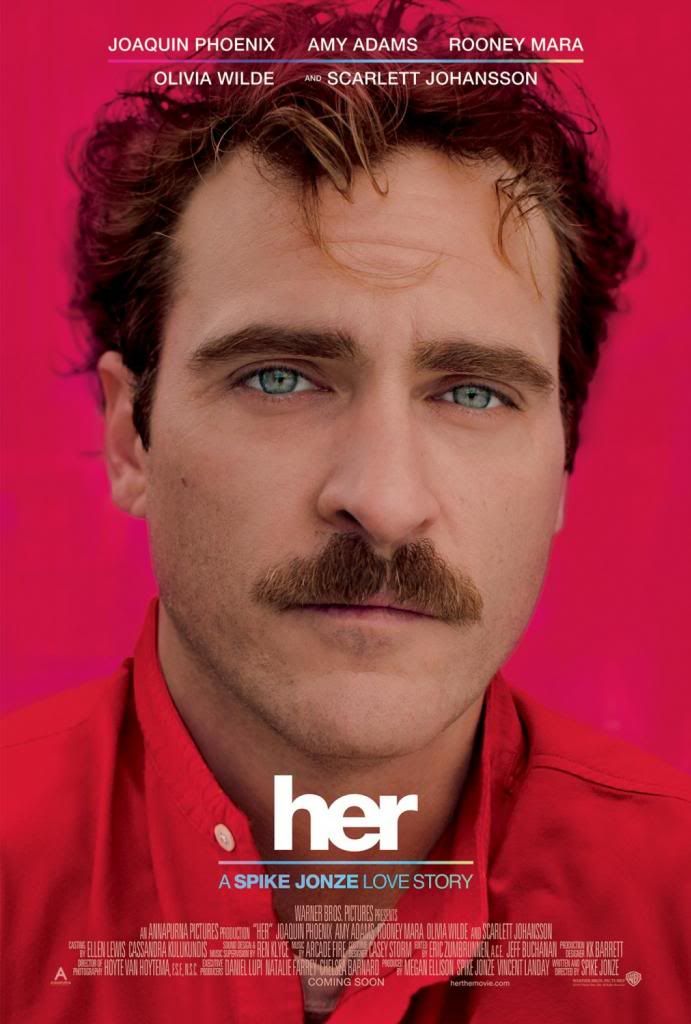 Theodore is a lonely man entering the stages of a painful divorce who makes a living writing heartfelt, intimate letters for people he's never met and spends his spare time playing video games. He purchases a new Operating System product that has a constantly developing personality that provides company for the owner and will cater to their every need. Theodore's OS names herself Samantha and shows an infectious wonderment and thirst for life that Theodore thrives on having in his world. When the closeness and intimacy that develops between the two becomes something more romantic, both Theodore and Samantha have to confront the challenges that arise from Samantha's lack of a physical body and her ever expanding intelligence.
Her
is an incredibly charming film with such a unique premise that is explored thoroughly for every ounce of drama and entertainment. As writer and director
Spike Jonze
has crafted a futuristic world that feels like a very natural progression of the technology and culture of our own, and he has filled it with fully rounded characters that are easy to invest in and relate to. While Her is very much Theodore's story, this world is so complete that the host of characters filling out the supporting cast could all just as easily have fronted their own films. The relationship that Jonze has created between Theodore and Samantha, despite it's unusual nature, is a heartwarming one that is a pleasure to follow. From the endlessly fun 'dates' that they go on (running and playing games within large crowds or spending time at the beach) to the smaller moments (talking before bed, playing video games) the connection they share feels as true and exciting as any other film romance. That it is explored so thoroughly by Jonze's fantastic screenplay only makes for a more complete experience.
Leading this story is the incredible
Joaquin Phoenix
as Theodore who delivers a beautifully nuanced performance with a natural fragility that I did not expect and which completely astounded me. His heartfelt portrayal of a man looking for companionship in the most unexpected of places is touching and relatable. The actor taps into a softness that makes his performance so inviting, he is endearing, goofy, romantic and his vulnerability and loneliness is so well captured that it will surely feel familiar to many.
Amy Adams
is great as Theodore's closest friend and perfectly compliments Phoenix's character. This is a much less glamorous role for her than that of
American Hustle
, but she really excels here in a much more natural and engrossing character, with the handful of scenes that she occupies being wonderful distractions from Theodore and Samantha's central story. As the ex-wife,
Rooney Mara
is equally great exposing a weaker side to Theodore through her character's more cynical opinion of his life after their marriage. Although she is only afforded one major scene, and one in which she isn't very pleasant, there are numerous glimpses into the happier moments of her life with Theodore and the chemistry between Phoenix and Mara in these scenes makes me yearn for a film focusing on this relationship before it broke down.
As Samantha,
Scarlett Johansson
delivers an exquisite performance and is quite simply transcendent. Traditionally a voice actor has the support of supplying their voice to an animated character whose physicality and expressions can make manifest the subtle aspects of their vocal work. Johansson's performance is so remarkable because she lacks this safety net, she is simply a disembodied voice coming from an earpiece and she must convey a remarkable range of emotions and character development using only her voice. As Samantha she is charming, funny, delightful, personable and even heartbreaking, exploring an artificial entity in conflict over the endless possibilities of her ever growing software and her desire for a physical form. The casting here is impeccable and Johansson shines as an OS who feels as emotionally complex and real as any other 'real' character in the film.
Taking Jonze's futuristic world and brining it to life with such vibrancy and skill is cinematographer
Hoyte Van Hoytema
(best name ever?). Her is a visual masterpiece and fully deserves a place among the most beautiful films made. Soft hues and immaculately framed shots convey the beauty of Theodore's story and the stunningly realised world that he occupies. The prominent use of the colour red only adds to the beauty of the film. So often red is used as a signifier of danger, lust or anger and so it is a delightful change to see such a gorgeous palette being repurposed to create a romanticised, painterly aesthetic. The score from Arcade Fire further enhances the emotional power of the story, with
Karen O
's 'The Moon Song' perfectly encapsulating the tone during it's uses in the film.
There aren't enough adjectives available to fully convey how completely I loved this film. Writing, direction, performance, scoring and cinematography all come together here to create a masterful symphony of romance and joy. Her is an intoxicatingly optimistic film that takes a bizarre premise and crafts an unexpected gem out of it. This is a perfect film, and one that I wanted to watch all over again just five minutes after the credits finished rolling.